Das Serena Inn liegt direkt am Zanzibar Channel von Stone Town und ist Mitglied der Gruppe Small Luxury Hotels of the World und Teil der international renommierten Serena-Kette, die Hotels in ganz Ostafrika bietet. Die Gebäude, aus denen das Serena Inn besteht, wurden einst als Residenz für einen chinesischen Arzt genutzt, aber seit den 1990er Jahren ist es ein Hotel und bietet alle Einrichtungen, die Sie von einer internationalen Stilkette erwarten – einschließlich einer Auswahl an Restaurants, ein Schwimmbad, ein Geschäft und ein Café, etc.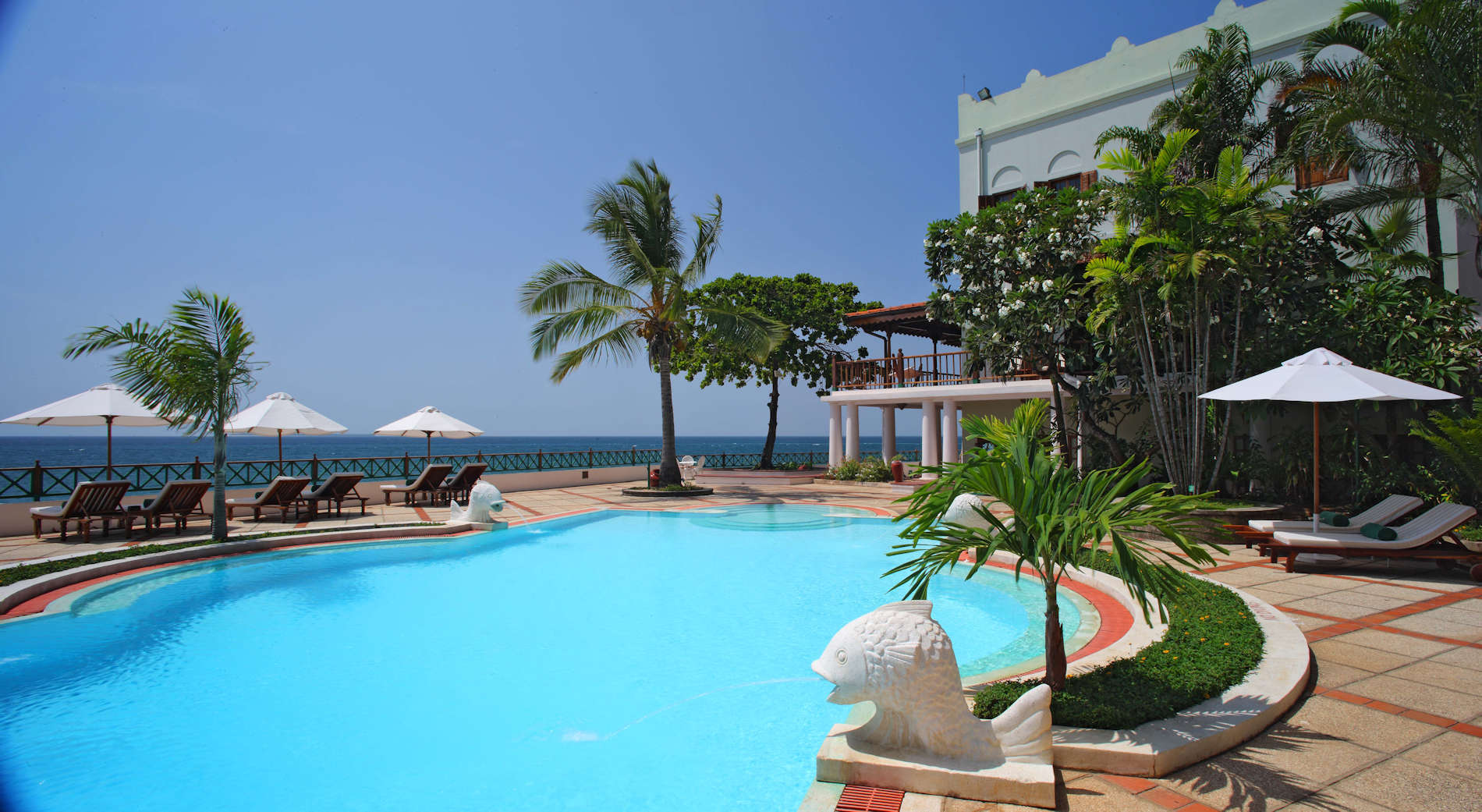 Das Zanzibar Serena Inn befindet sich an der Seeseite der Stadt, nur wenige Gehminuten von den pulsierenden Gassen Zanzibars. Es handelt sich um 2 wundervolle, im Stil der Alt – Zanzibars restaurierten Häuser, das Chinese Doctor's House aus dem 19. Jhd. und das benachbarte, 50 Jahre jüngere Extelcomms- House. Beide gebäude sind zu einem Edelhotel direkt am Strand zusammengefügt worden.
Das Serena Inn ist ein schönes altes Hotel, das sorgfältig aus zwei historischen Gebäuden restauriert wurde – das Endergebnis ist ein relativ schlaues und relativ hochwertiges Hotel. Das Serena hat auch einen fantastischen Platz direkt am Strand (obwohl es ein Stadtstrand ist, also nicht wirklich zum Sonnenbaden und Schwimmen), mit Blick über das Meer auf das tansanische Festland. Das Schwimmbad befindet sich im Zentrum der Serena, wobei die Hauptbereiche und Schlafzimmer des Hotels in einer U-förmigen Formation um ihn herum angeordnet sind. Es gibt auch ein kleines Spielzimmer für Kinder und ein Konferenzzentrum für Geschäftsreisende in Stone Town.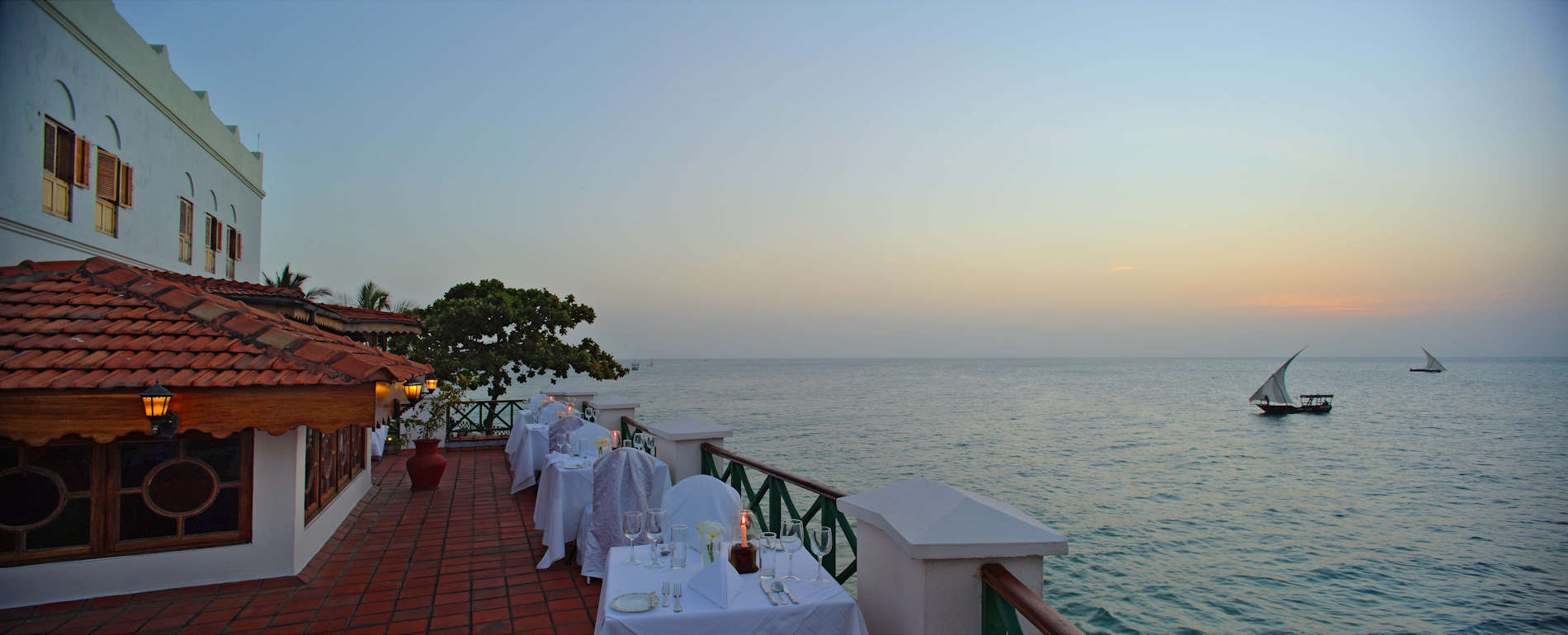 ZIMMER
Alle 51 Zimmer haben Klimaanlage, Minibar, privaten Balkon mit tollem Ausblick und TV.  Von den 51 Zimmern gibt es 23 Zweibett- und 24 Doppelbettzimmer, sowie 4 Suiten.
Die Zimmer im Serena Inn variieren in Größe und Luxus, wobei das Standard Zimmer das kleinste ist, die Prime Rooms etwas größer und die Suiten die opulentesten. Alle Zimmer haben eine gute Größe und sind mit schönen sansibarischen Betten und hellen Materialien ausgestattet. Jedes Zimmer verfügt über einen eigenen Balkon. Sie sind mit poliertem roten Zement und Teppichen belegt. Jedes Zimmer verfügt über eine Klimaanlage und ein eigenes Bad.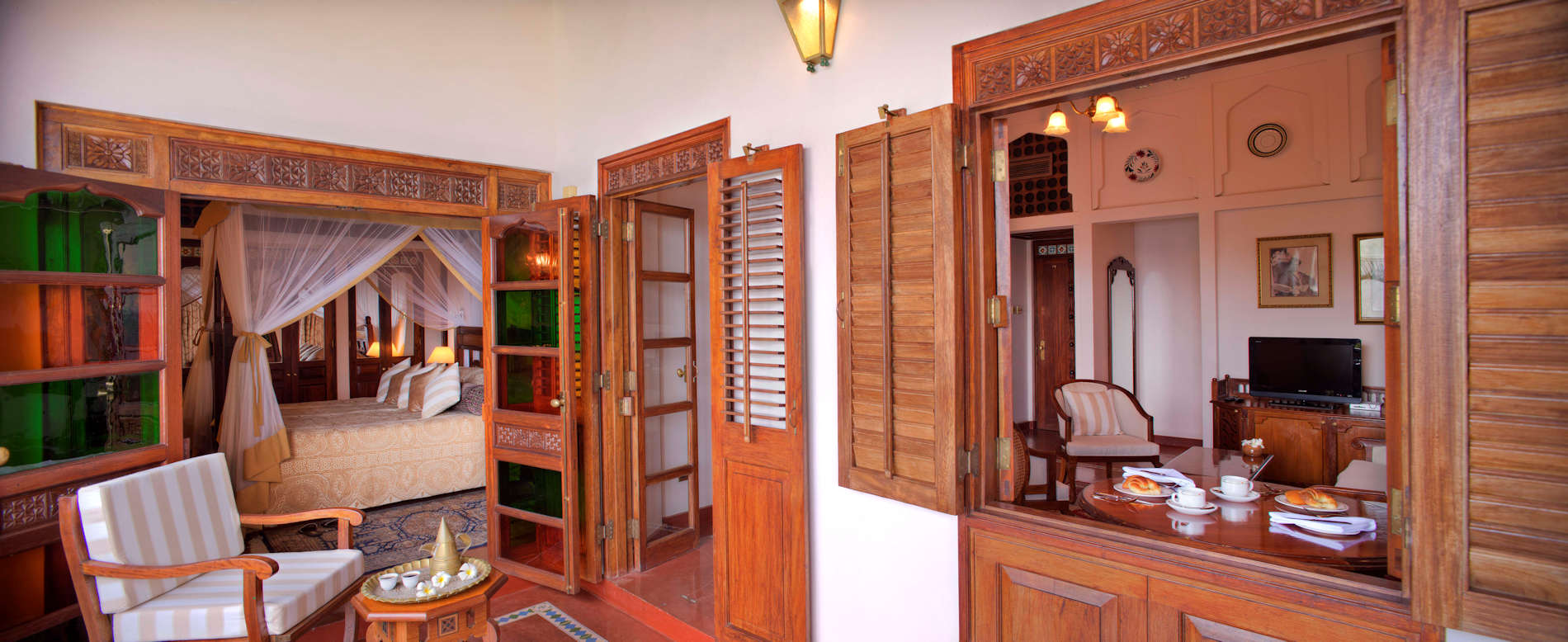 RESTAURANT, LOUNGE & CAFÈ
Es gibt mehrere Orte zum Essen und Trinken: die Masahani Bar blickt auf den Strand. Im Inneren hat die Bar polierte rot geflieste Böden, eine dunkle Holzbar und ein paar Antiquitäten. Es gibt viele niedrige, bequeme Liegestühle, wo Sie unter Fans sitzen und einen Drink von der gut sortierten Bar genießen können.
Außerhalb der Bar auf der Terrasse sind eine Reihe von gepolsterten Korbstühlen um kleine Tische. Während der Mittagspause versammeln sich die Leute hier im Schatten, um einen schnellen Snack von der Bar-Speisekarte zu holen. Es ist ein schöner Ort mit einer sehr willkommen kühlen Meeresbrise und einer entspannten Luft.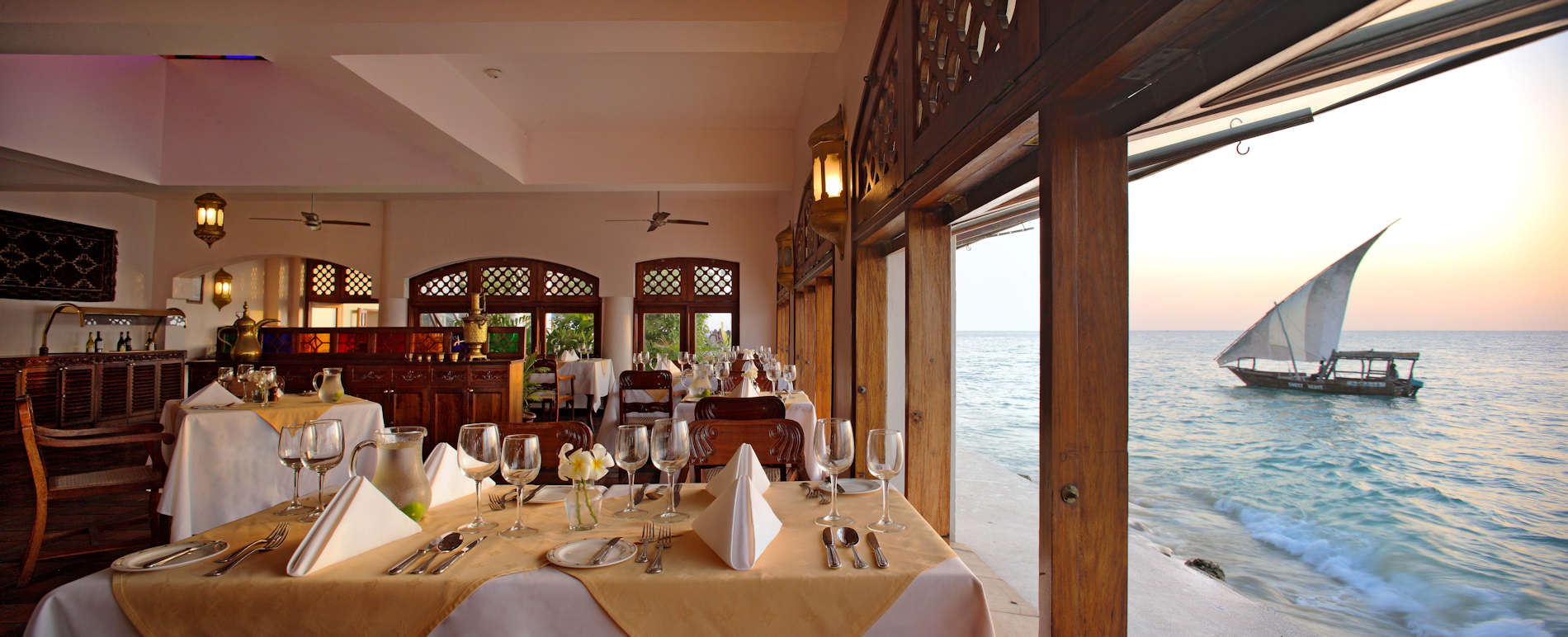 Direkt neben der Bar befindet sich das Haupt-Bahari-Restaurant. Ähnlich wie in der Bar ist das Esszimmer nicht besonders stilvoll. Obwohl es stimmungsvoll ist, ist es im arabischen Stil mit vielen geschnitzten Holzmöbeln, antiken Messinglampen von der Decke und dunkelroten Fliesenböden dekoriert.
Neben dem Hauptrestaurant bietet das Hotel ein zweites, exklusiveres und romantischeres Seafood Restaurant, ein Dachrestaurant, das nur zum Abendessen geöffnet ist. Auf einer offenen Terrasse gelegen, ist der Blick über den Indischen Ozean von hier wunderschön. Reservierungen müssen im Voraus gemacht werden – obwohl wir bei einer Gelegenheit, als wir es 2017 überprüft haben, festgestellt haben, dass es menschenleer ist, und es ist nicht klar, ob es offen wäre, wenn es keine anderen Reservierungen gäbe.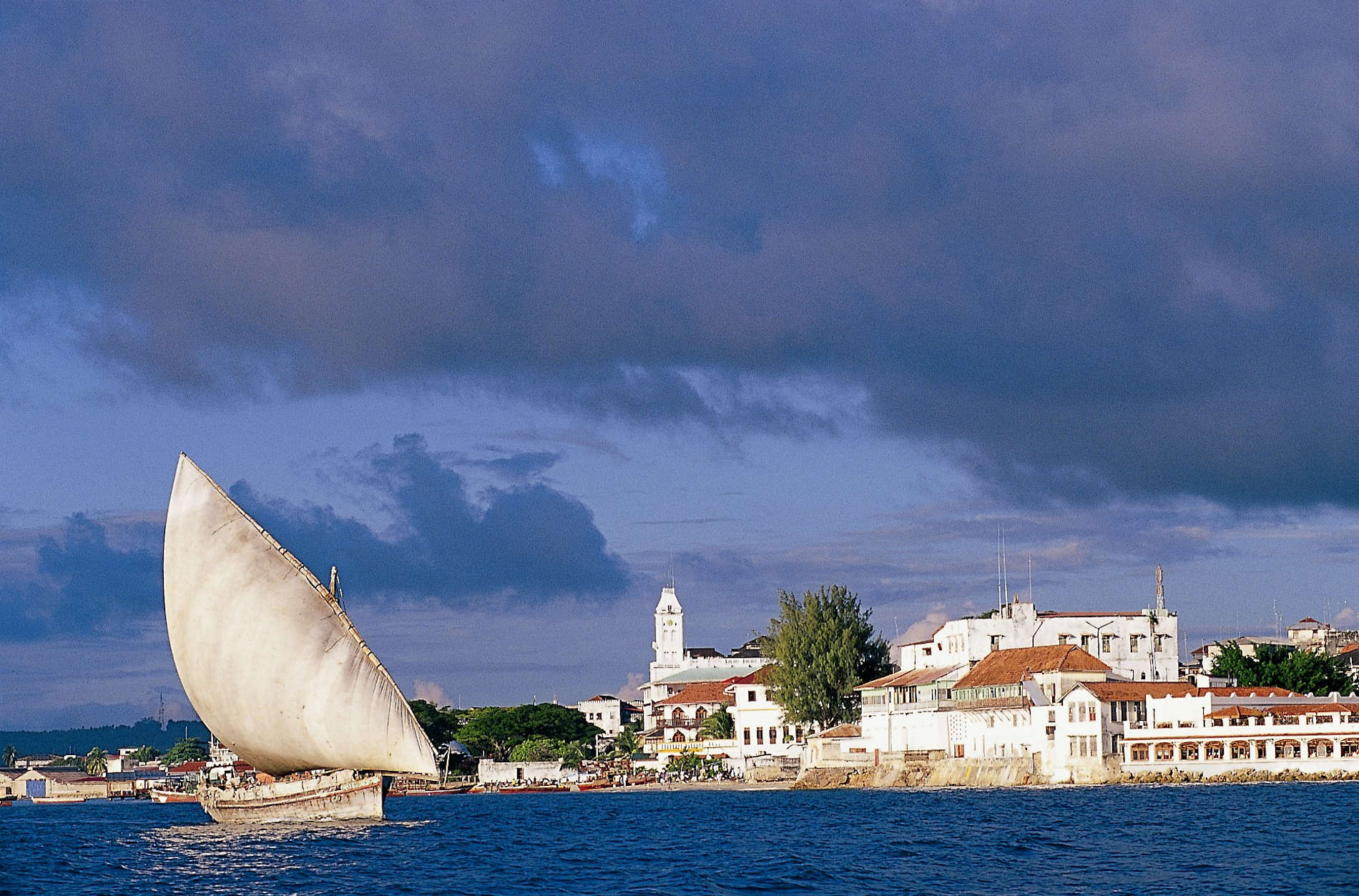 Für einen schnellen Kaffee oder ein Stück Kuchen, machen Sie Halt im schönen Mdele Coffee Shop. Diese befindet sich in einem offenen Bereich hinter dem Pool und ist mit einer Reihe von kleinen Tischen und schmiedeeisernen weißen Gartenstühlen ausgestattet.
Angrenzend an das Café befindet sich der Laden des Serena Inn, der eine Vielzahl von Kuriositäten verkauft. Es ist ein relativ gut sortierter kleiner Laden, aber für diejenigen, die einige ernsthafte Verhandlungen führen können, finden Sie bessere Preise bei den Straßenverkäufern.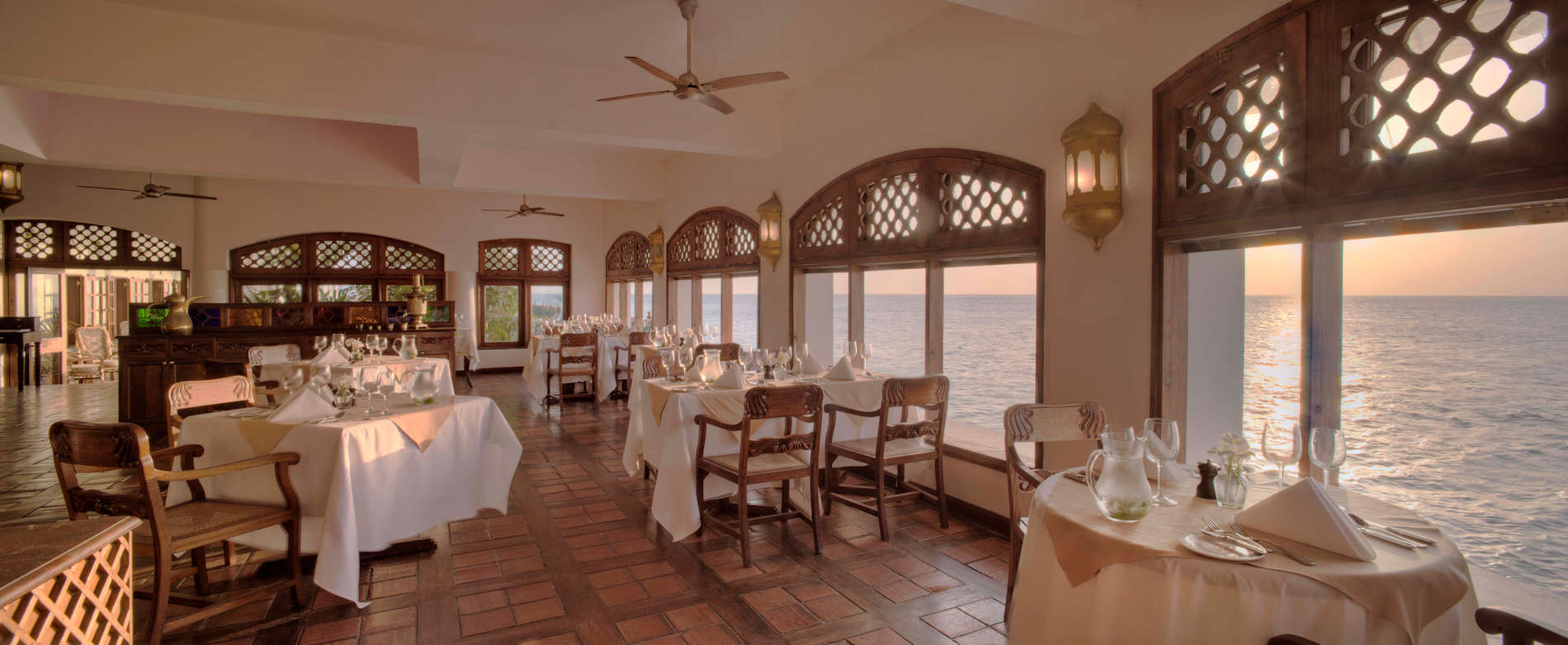 Interessant für Liebhaber der alten Audio-Ephemera sind einige mysteriöse Teile antiker Signalgeräte, die in den Displayboxen im ersten und zweiten Stock des Nordwestflügels des Hotels zu sehen sind. Diese Gebäude stammen aus dem 19. Jahrhundert, als das Gebäude als Telegrafenbüro betrieben wurde, das über Unterwasserkabel mit Aden (heute Jemen) verbunden war.
Zanzibar Serena Inn
14. November 2017