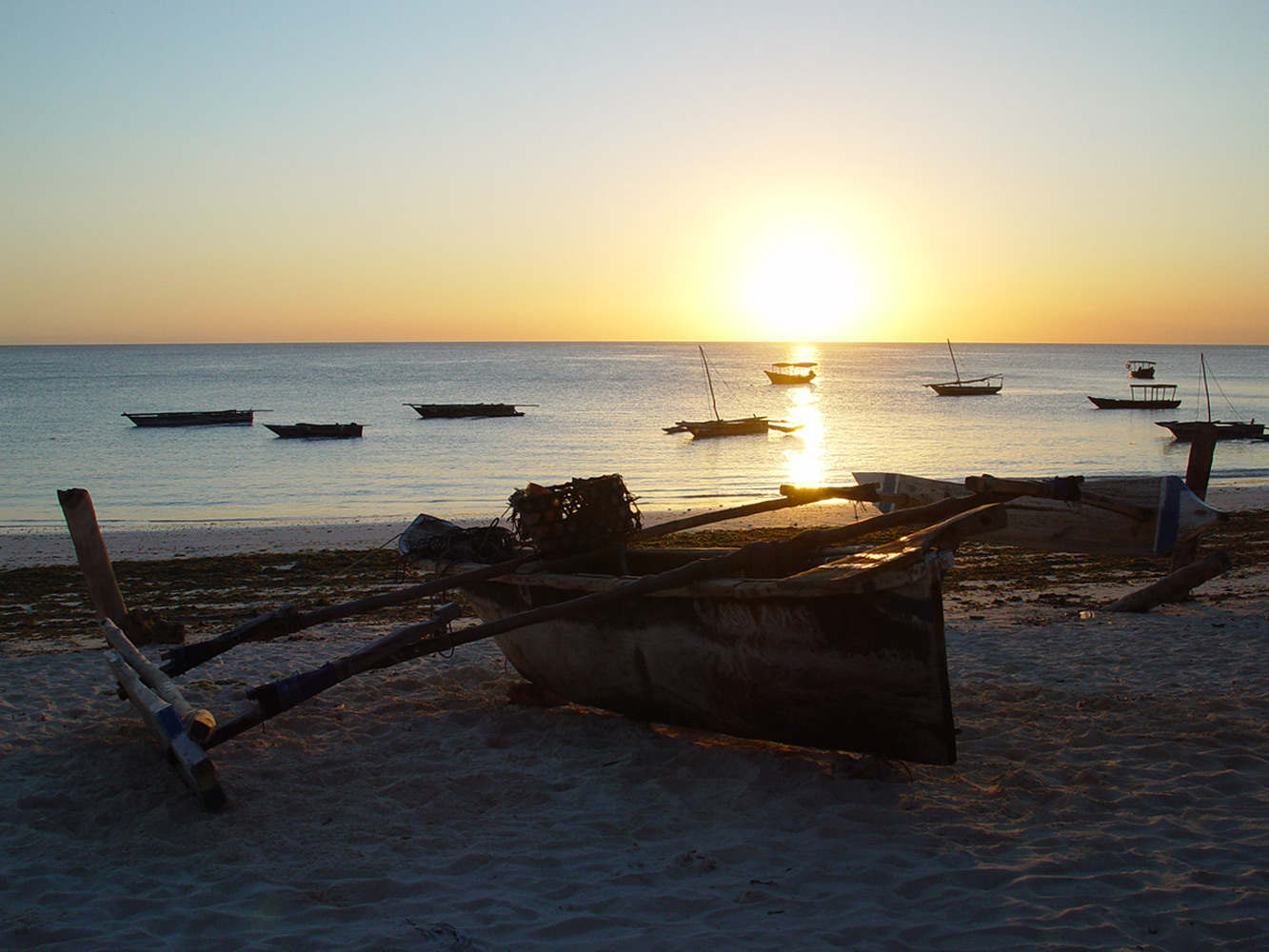 Zanzibar – allein der Klang erzählt von Magie, Charme und abenteuerlicher Geschichte. Im GREEN AND BLUE haben wir das Feinste von Sansibar aufgesogen und verdichtet.
Unsere Boutique Lodge ist im authentischen Zanzibari-Stil errichtet und eingebettet in die Exotik der Südsee. Alles dreht sich ums Verwöhnen-Lassen und Genießen. Alltägliches fällt ab wie ein Schleier, Zeit ist entbehrliches Konzept. – Dafür sorgt schon das 24h-Service inkl. Tansania Safaris.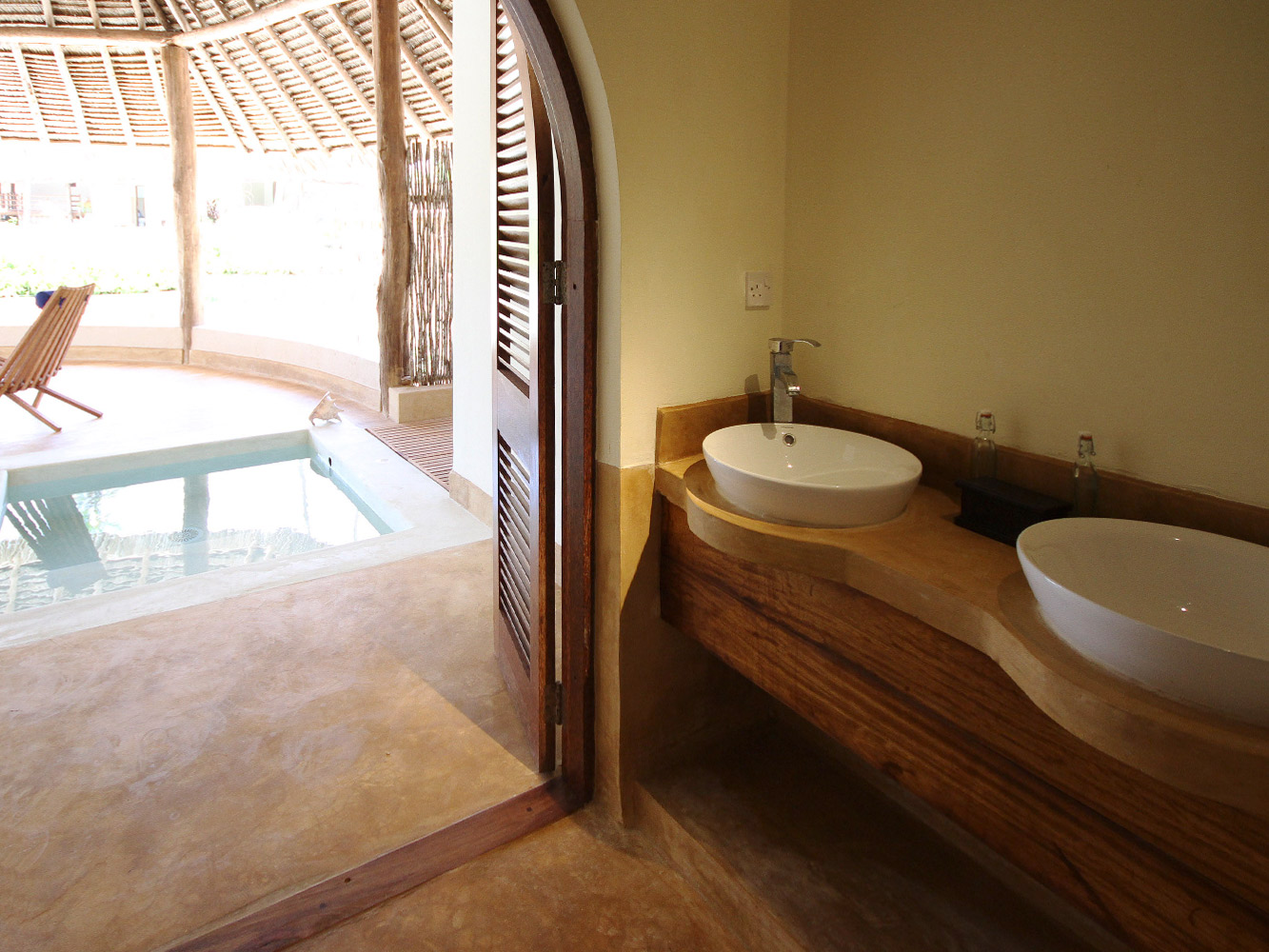 Wir wollen alle Sinne verwöhnen – mit paradiesischer Landschaft, Küche, Keller und Spa, Service und ehrlicher Herzlichkeit. Schon vor 300 Jahren wusste man in den omanischen Sultanspalästen auf Zanzibar zu genießen: Sich einfach dem Schönen im Leben hingeben – dem, was diese üppige Insel bietet.
GREEN AND BLUE liegt im Nordosten der Gewürzinsel Zanzibar – genau genommen: der Hauptinsel Unguja. Gegenüber befindet sich die kleine Insel Mnemba – dazwischen ein sehr feines Tauch- und Schnorchelrevier. Die Ocean Lodge ist eingebettet in einen üppigen Garten direkt am Ozean. Weiß, Blau, Türkis – das sind die Farben des Strandlebens in der einsamen Bucht.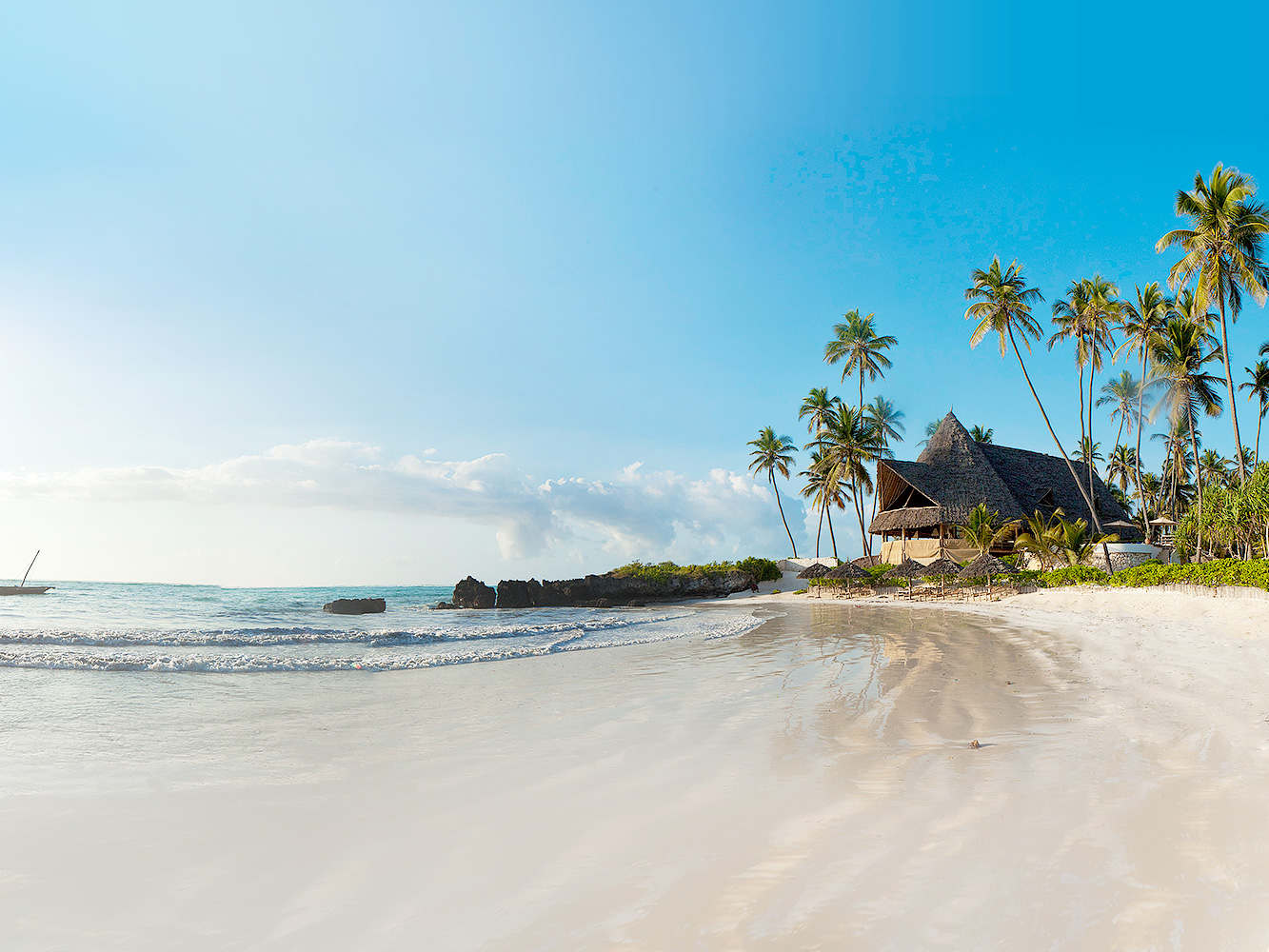 Die angenehm entspannte und durchdachte Architektur der sehr privaten Anlage ist geprägt von schlichter Eleganz im inseltypischen Stil. Weißes, traditionell offenes Mauerwerk ist bedeckt von Makuti-Dächer aus getrockneten Palmblättern. Alle 13 Sea Breeze Bungalows und die Luxury Oceanfront Villa im GREEN AND BLUE sind authentisch zanzibari, handverlesen und mit detailreicher Liebe ausgestattet. Die offene Bauweise sorgt für eine kühlende Brise auf der sonnengewärmten Haut – der private Outdoor-Plungepool samt Dusche für Frische und Entspannung.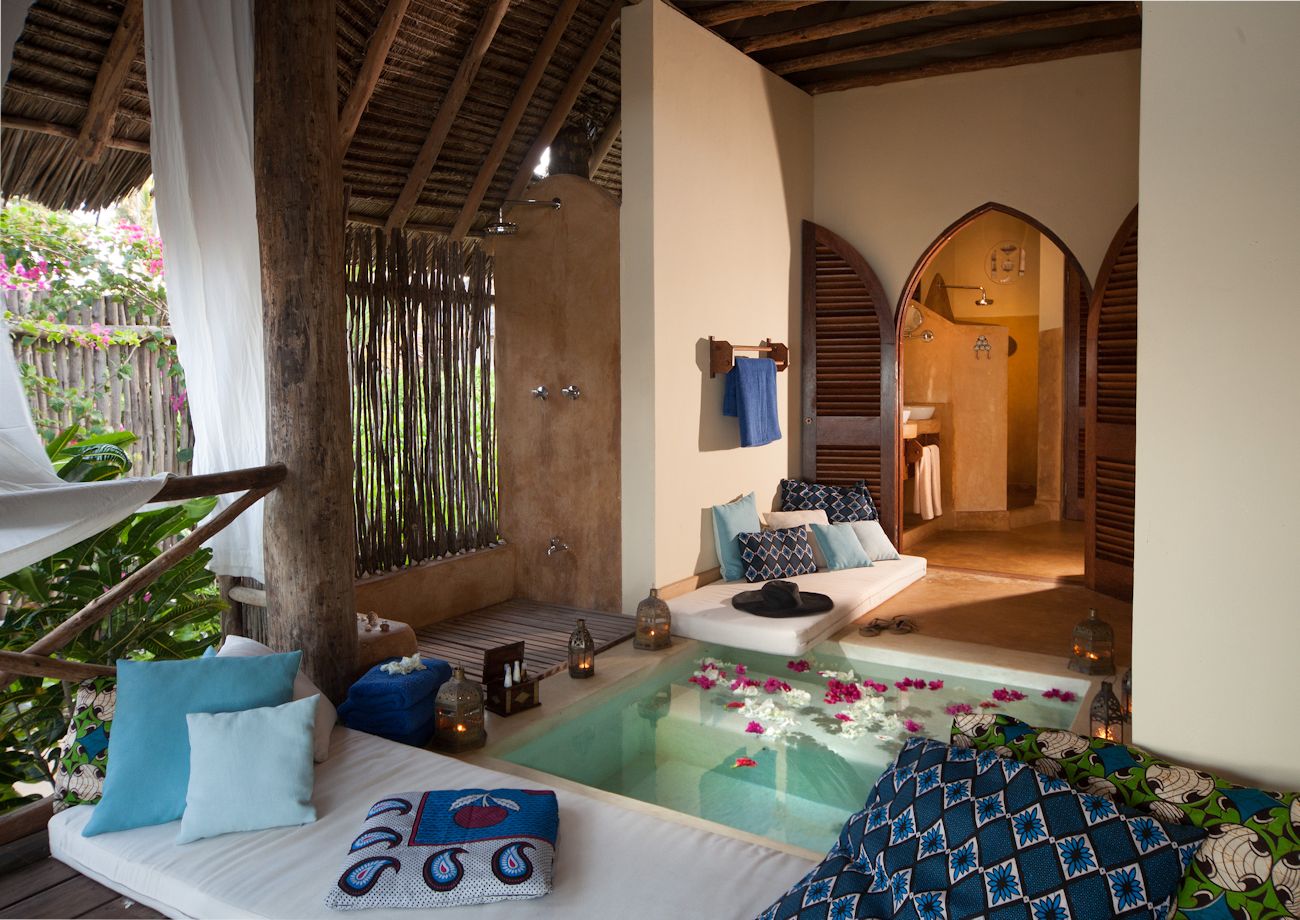 Als Zanzibar Sultanssitz war, wurden die Mitglieder der Sultansfamilie endlos verwöhnt – gaben sich Baderitualen und dem Müßiggang hin. Im GREEN AND BLUE besinnen wir uns auf diese entspannende Tradition.
Traditionelles Wissen um Heilkräfte von Pflanzen und Aromen steckt in der exquisiten afrikanischen Kosmetiklinie Africology, die bei unseren Massage und Beauty-Behandlung zum Einsatz kommt.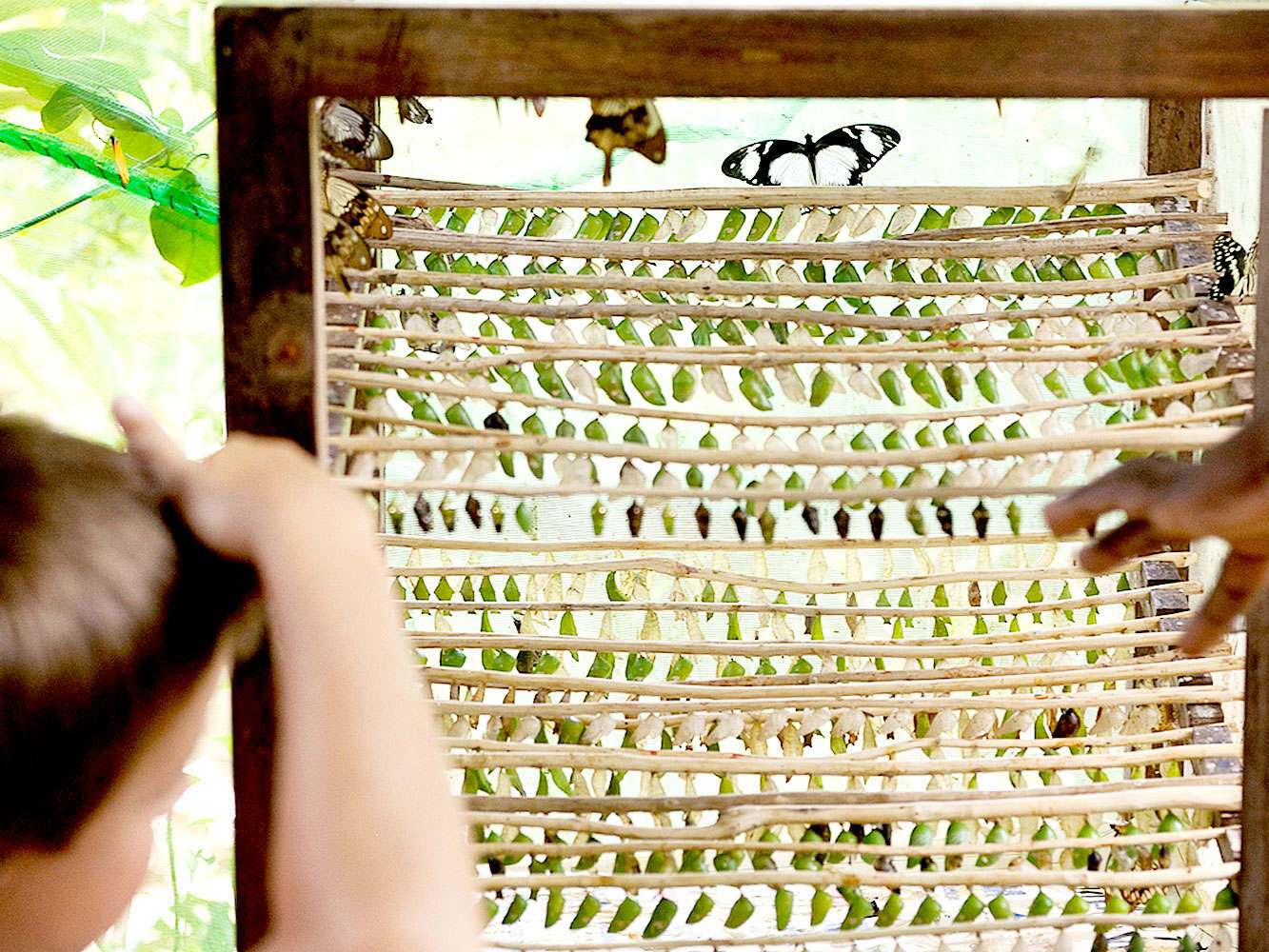 Zanzibar ist ein Ort der Sinnlichkeit. Wir empfinden außergewöhnlichen Ess-Genuss als unentbehrlich. Gerade hier.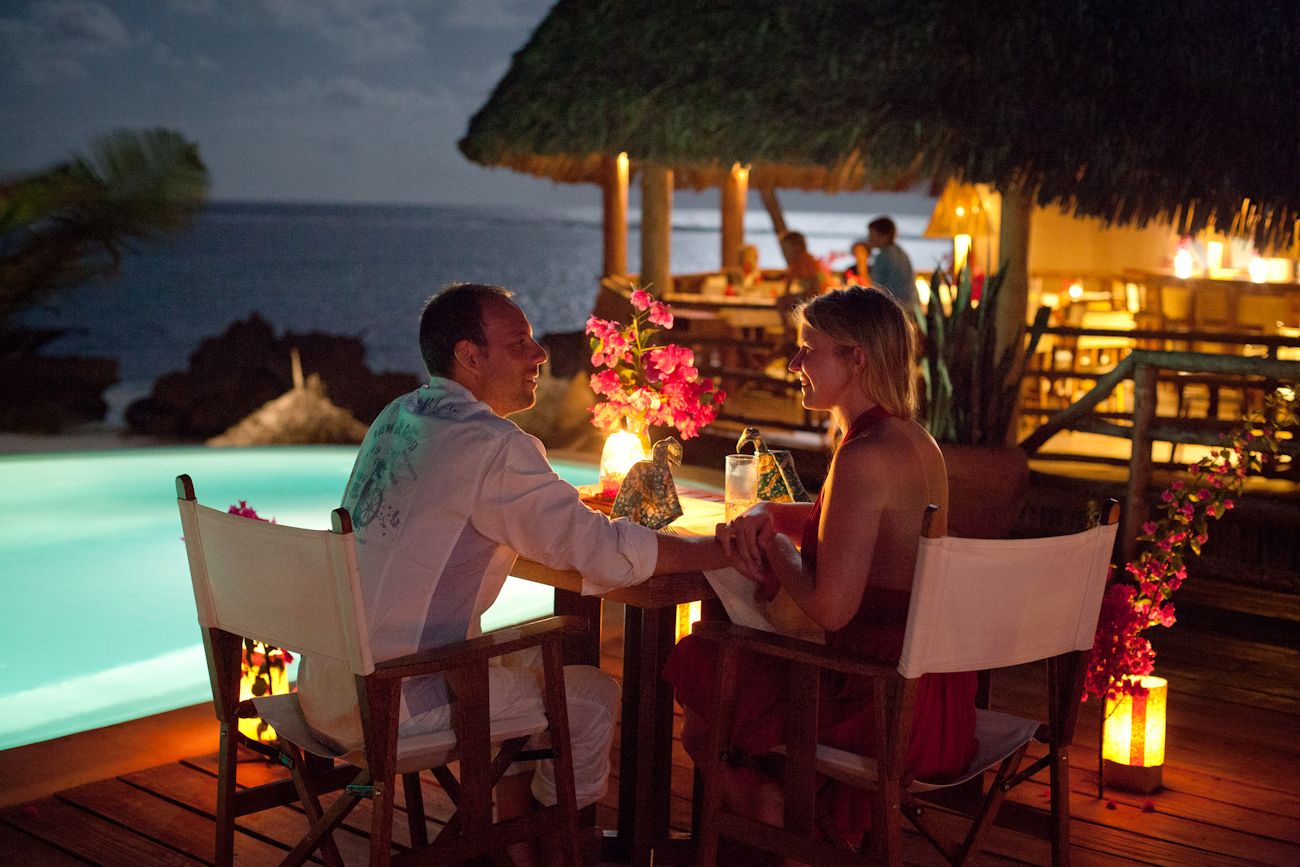 GREEN AND BLUE will das Beste Restaurant der Insel sein. Wir haben einen einheimischen Spitzenkoch engagiert, welcher es versteht, traditionelle sowie internationale Gerichte authentisch und gekonnt zu einem Geschmackserlebnis zu kreieren. Unterstützt wird er hierbei von Früchten und Gewürzen der Spice Island. Gehen Sie mit den Einheimischen auf Fischfang, oder suchen Sie sich Ihren Fisch am nahegelegenen Fischmarkt aus und wir bereiten Ihnen diesen gerne zu. In der Küche von GREEN AND BLUE kreieren wir Besonderes. Und dieses Besondere wollen wir teilen, erst dann wird es zum Genuss. Teilen mit unseren Gästen – und mit anderen Köchinnen und Köchen mit großen Ideen.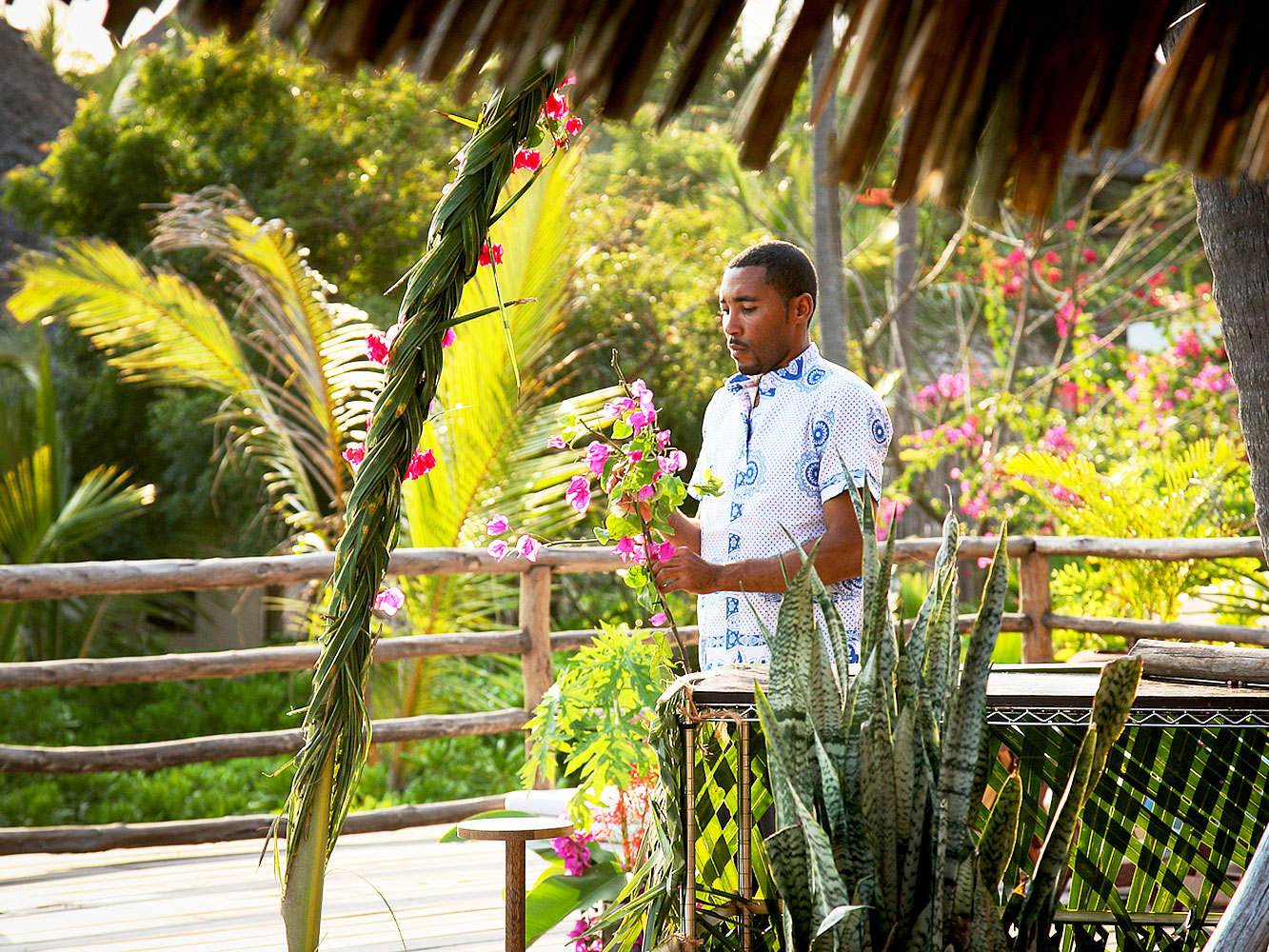 Einzig die Anstrengung der Auswahl müssen wir unseren Gästen im GREEN AND BLUE abringen. So muss sich auch die Sultansfamilie gefühlt haben.
Eine PADI Tauchschule ist in der Hotelbucht – das Mnemba Atoll direkt davor. Bei Ebbe ist das Wasser kniehoch und klar und die beste Gelegenheit, die Umgebung der eigenen Bucht und das Hausriff zu Fuß zu erkunden
Ausflüge und Sunset-Cruises mit einer Dhau, dem typischen zanzibari Holz-Segelboot
Erkundung von Stone Town, dem Weltkulturerbe, wo portugiesischer Kolonialstil gepaart ist mit arabischen und afrikanischen Einflüssen
Zimt, Vanille, Kardamom, Muskat, Gewürznelken – entdecken Sie den Ursprung der Aromen, die die ganze Insel betörenMeisterin fantasievoller asiatischer Kreationen, die Gaumen, Augen und der Balance gut tun.
Green and Blue
17. August 2017